Your 30-60-90 Day Plan
A 3 month plan can be a great start to either a new job in a new company, a new promotion or a consistent ongoing monitoring of your own goals and performance.   As the famous quote says:
A recent survey found that:
15% of employees were not introduced to their co-workers
22% didn't have the supplies they needed
14% didn't even get a tour of the office
Yet despite that, 92% of HR managers felt their on-boarding process was effective!
So what can you improve?
Well, by implementing your own action plan, you can ensure you don't fall into any of the percentage categories above.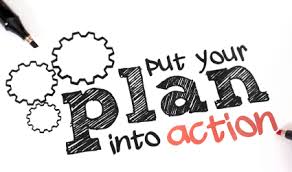 With that in mind, we have devised a simple process that can be used at any of the above times, to ensure you stay on track with your career goals.
Timeframe
Action Plan
0-30 Days
Introduce yourself to the team

·         Meet as many people as you can

·         Ensure you understand what each do and what capacity you will be working with them

Learn Processes & Procedures

·         What is the culture of the company like and how can you best integrate into it

·         Familiarize yourself with company processes

·         What systems do they use?

·         Ensure you know if you log / support log the work you are doing

Planning your Objectives

·         Arrive with an outline of objectives over the 90 days

·         Once you have met and understood the company and your team more, revisit your objectives and rewrite / update them

Targets

·         Ensure you have outlined targets that you can see are fully achievable

·         Speak with your manager to outline your plans

30-60 Days
Review the first month

·         Did you make the inroads you had planned?

·         What could you do to increase this?

·         Speak to your manager about ideas and targets for the second month

·         Arrange a 1-2-1 with your manager

Prioritise

·         Ensure all current projects are prioritised

·         Speak with colleagues and managers if you feel there are different ways / need help moving them forward

Team

·         Ensure your goals are in-line with that expected of your team

·         Attend team meetings and voice ideas that may help everyone achieve their targets more quickly

·         Take on board ideas from other team members

Team motivation

·         How do the team respond to you?

·         What are the team goals that you are all working towards?

·         How can you make this more achievable?

Communicate with your Manager

·         Ensure you are constantly updating your manager regarding plans, problems, targets and anything that needs assistance.

60-90 Days
Review

·         Ensure there is a date booked to review your progress so far with your manager

·         If he/she has not actively booked a time, ensure you ask for a time so that it shows you are keen to ensure you are moving forward

·         Ask how you are perceived, if there are any changes you could make, what good impact you  have had on the team

Personal Review

·         Look back at the past two months

·         How could you have increased your target / goals?

·         How are you enjoying this role and the leadership style?

Deliver on Targets

·         Ensure you are using all team resources and knowledge to help you achieve your goals and targets

·         By month 3 most companies are looking for sales to be closing

Plan ahead

·         Begin to outline the next 90 days

·         Set out objectives and goals to move your business forward over the next three months

·         Understand company KPIs and ensure these are part of your plans to achieve

·         Keep a good pipeline of new business

·         Write clear forecasts, amend as needed

Neo Pedrithes, MD & Senior Sales Recruitment
neo@ice-recruitment.com M: 07961 381096
Rachel Pedrithes, Director Customer Success & Sales
Rachel@ice-recruitment.com  M: 07971 381097
Or visit our website: www.ice-recruitment.com